GREAT FALLS - It's often said that a dog is man's best friend, but for many people, a four-legged loyal pal can be much more.
Kim Monroe of Great Falls has been a puppy-raiser for Canine Companions for Independence for 17 years. Since 1975, the California-based nonprofit has been training service dogs for the disabled.
"So whether they're in a wheelchair or just have trouble picking things up, opening doors, maybe they just get really fatigued, the dog will carry things for them so they just help them live independent lives," said Monroe.
Monroe's latest pupil is Daya, a black lab-golden retriever cross, an excellent breed mix for service training.
"Canine Companions started with German Shepherds, Corgis, I think they had sheepdogs at one time," said Monroe. "They have just found over 40 years of doing this that Labradors and Golden Retrievers make the best service dogs. They have the best temperament. They're willing to please. They're playful, yet hard-workers.
Monroe picked up Daya from the organization's headquarters in Santana Rosa when Daya was eight weeks old. She's been training her ever since.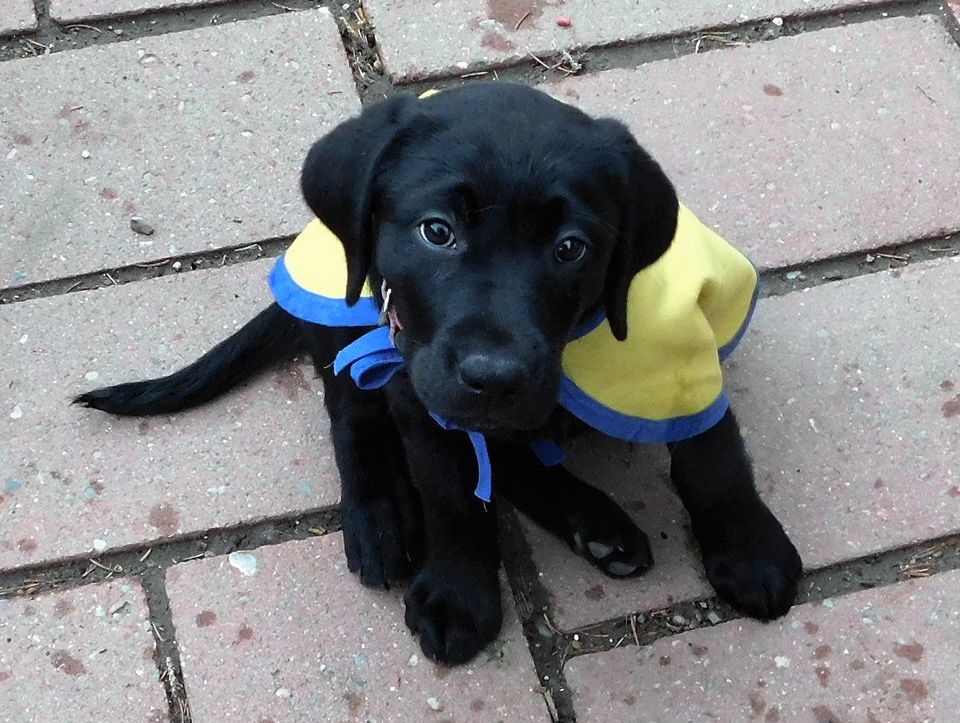 "There's a lot of work that goes into them. It's 24/7 and I think people don't understand that," said Monroe. "They just think, 'Oh I'm going to put a vest on my animal, they're well behaved.' Well, there's so much more than that that goes into raising a good service dog."
"We potty train them before they go out in public, of course. Then we teach them basic commands," said Monroe. "So we go to class a couple times a month to be socialized with other dogs. Then I start to bring her out into the community as well."
Daya's adventures have included trips to the youth orchestra, schools, even the doctor's office. Because she's so mellow, Daya even gets to accompany Monroe to work.
But don't let the dog's laid-back attitude fool you.
"Everybody always asks me, 'Do you let her play?' She gets plenty of playtime," said Monroe. "But when her vest is on she knows that it's time to be serious. When her gentle leader goes on she's like, 'Time to work.'"
When Daya turns 18 months old in February, Monroe will return to California for an emotional graduation ceremony where she'll turn Daya over to a new owner.
"If you raise a puppy that becomes a service dog, you get to hand the leash over to the person who gets them," said Monroe. "The difference you see in the lives of the people that you give the dogs to, there is nothing that compares to that. That's why you keep doing it. That's why I keep doing it because I know the impact it has on people."
Monroe said many people confuse service dogs with emotional support animals.
"So a service dog is trained for one person to do tasks for that one person," said Monroe. "An emotional support dog doesn't have public access. Service dogs have public access. They need to be task-oriented," Monroe said.
"So when a business sees a dog come in they can ask the person two questions according to ADA law, 'Do you have a disability your dog helps you with? What task does your dog help you with?' Then that business is assured that this dog is not just a pet that's well behaved coming into a restaurant because that's not their purpose and that hurts people who really do need a service dog as well," Monroe added.
Monroe has been volunteering with Canine Companions for 17 years. During that time she's raised ten puppies to be service dogs. She'll continue with the program, raising another puppy when her time with Daya is through.
She's one of just two of the organization's Montana puppy raisers. Nationwide, there are about 2,300 puppy raisers, but the organization can always use more.
"We had a puppy-looza last year and we're desperately in need of puppy raisers," said Kim. "Because we have a waiting list of a year and a half of people waiting for a dog, we can't do it without having our puppy raisers start them."
Monroe doesn't receive any reimbursement from Canine Companions for veterinary expenses, dog food, obedience training, or travel expenses. But she can use those expenses as a tax deduction. She also says Petco has been helpful with dog food.
Kim works full-time and is also going to school. She says a flexible work schedule allows time to go home and let Daya out has been helpful in her volunteer work with Canine Companions.
Canine Companions has six training centers throughout the United States, including one in Irving, Texas which specializes in training dogs for veterans suffering from Post-Traumatic Stress Disorder.
Monroe encourages anyone with a passion for dogs and helping people to consider becoming a puppy raiser. More information can be found on the organization's website.