EAST MISSOULA - It was a tense morning for residents in the East Missoula area while numerous law enforcement searched for an armed fugitive.
The Missoula College campus and Bonner School were under lockdown while authorities from the ground and air tried desperately tried to find the armed suspect.
Missoula County Sheriff T.J. McDermott says the fugitive, 35-year-old William "Billy" Newhoff, was wanted by the U.S. Marshals wanted on a probation violation.
"At approximately 9:30 this morning, deputies with the Missoula County Sheriff's Office followed up on a stolen vehicle that was located at a motel in East Missoula," McDermott said. "They later determined that the subject to be driving that vehicle was a wanted fugitive with outstanding federal arrest warrants."
While being chased by police, Newhoff crashed his truck on the corner of Speedway Avenue and Montana Street in East Missoula.
"It's here where the suspect crashed his vehicle and then fled on foot with a firearm, making him a danger to the Missoula community."
Numerous law enforcement agencies such as the MCSO's SWAT vehicle, K-9 units and Two Bear Air helicopter out of Kalispell all worked together to capture the suspect.
"We called in the Missoula County Sheriffs K-9 unit, as well as a helicopter out of Kalispell and as the canine unit tracked the suspect from where he fled the vehicle on foot the helicopter searched the area and the perimeter from above."
The University sent out a safety alert closing Missoula College for the day, as well as a portion of the Kim Williams trail near the school. Bonner Elementary School kept their perimeter secure doors locked and kids inside until the threat passed.
Deputies arrested Newhoff around 1:45 p.m. Tuesday inside a trailer in the 800 block of Speedway Avenue, an apprehension made possible by teamwork between different groups.
Mount Jumbo Elementary is where different government agencies came together to assist each other in capturing someone that was a threat to the Missoula community.
Newhoff has a prior conviction for breaking out of the Mineral County Jail in 2009, along with convictions for burglary, theft and forgery. He is now booked in the Missoula County Detention Center. He's expected to make his court appearance this week.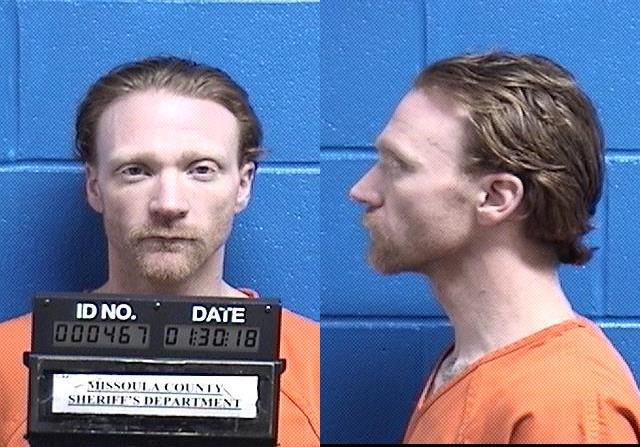 ---
The Missoula County Sheriff's Office has confirmed that the man who has been on the run in the East Missoula area is now in custody.
The MCSO says that William "Billy" Dale Newhoff, 35, was arrested without incident at approximately 1:45 p.m. Tuesday in East Missoula, and that they do not believe there is any further danger to the public.
The precautionary Shelter in Place for Bonner School has also been lifted. Normal operations and schedules will resume for the rest of Tuesday afternoon and evening. MCT practice and basketball practice will occur at normal times and buses will run as normal for the PM route.
Stick with KPAX for updates.
---
EAST MISSOULA - Missoula County Sheriff TJ McDermott says that the armed suspect being sought in the East Missoula area fled authorities after the US Marshals Service attempted to take the man into custody on a warrant.
A helicopter has joined the search to find the suspect, who's been identified as William "Billy" Dale Newhoff, 35. He's wanted for a parole violation. Newhoff is a white male who stands 5'10" tall and weighs 215 pounds. He has red hair and hazel eyes and numerous tattoos.
State prison records show that Newhoff was convicted on forgery, burglary and theft charges in Missoula County.
Residents and businesses in the East Missoula area are being told to stay inside and lock their doors as authorities search for a suspect who's described as armed and dangerous.
The lockdown at Missoula College and the nearby closure of the Kim Williams Trail have been lifted. The University of Montana Police Department had earlier sent out a tweet stating that "there is no indication the suspect is on campus, and the search area is focused in East Missoula. Closures and lockdowns are precautionary."
Meanwhile, Bonner School has instituted a Shelter in Place precaution. According to a text sent to parents, "Classrooms and all exterior doors are locked with students remaining in classrooms and inside the building."
---
---
---
A witness has told MTN News that there was a police chase that ended in the Dakota Avenue area of East Missoula. The fleeing vehicle also reportedly hit and damaged a home before a suspect fled on foot.
The suspect, who is described as being a white male, 30-to-40 years old with a slender build. The man was last seen wearing grey pants, black hoodie with grey sleeves and a grey hood with white writing.
The suspect is considered to be armed and dangerous and should not be approached. Anyone with information about the suspect is asked to immediately call 9-1-1.
- information from Connor McCauley included in this report.