BILLINGS - Authorities report that at least one person is dead and another was injured on U.S. Highway 212 between Joliet and Boyd after a southbound driver tried to pass a snowplow on Monday night.
Montana Highway Patrol Trooper Wade Palen said multiple vehicles were trailing the plow when a pickup truck tried to pass around 4:40 p.m. That vehicle struck a Jeep Rubicon that was heading north.
The driver of the Jeep, Mike Cryder, 71 of Billings, told MTN News he could see the headlights coming at him through the snow blown in the air by the plow. He had been traveling home from a ski trip in Red Lodge.
"It was a tremendous impact," Cryder said Monday night in a telephone interview. He added that multiple cars were struck after the initial collision, as many as five. Cryder was wearing his seatbelt. His Jeep was totaled.
Cryder, a former first responder, said he suffered a bruise on his leg and went to a hospital as a precaution, but he suffered no serious injuries. He was the scene for about two-and-a-half hours before his daughter picked him up.
Both lanes of Highway 212 reopened around 10 p.m.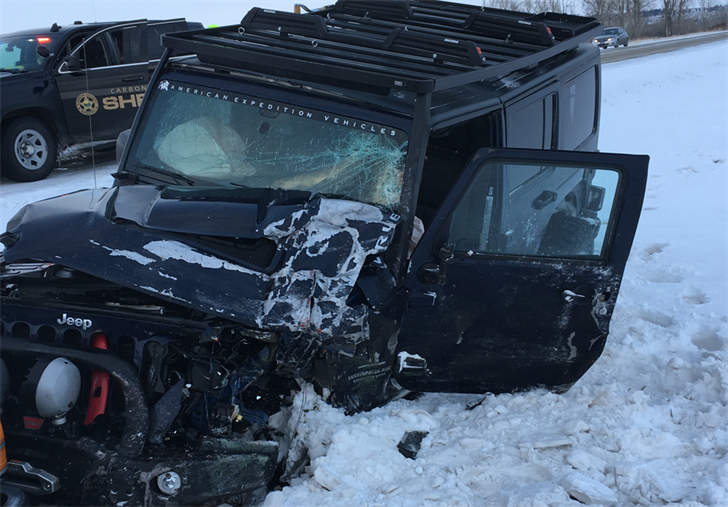 This Jeep was totaled in an accident on Highway 212. The driver, Mike Cryder, survived. Photo courtesy of Mike Cryder.