One climber is dead after falling 700 to 1,000 feet on Mount Hood in Portland, Oregon, according to the Clackamas County Sheriff's Office. The sheriff's office said at 8:30 p.m. PT that six other climbers -- who were parts of two different groups -- had been rescued.
According to the sheriff's office, a group of three climbers became trapped on the trail. Within minutes, a second group of climbers became trapped on the same trail, surrounded by fallen ice and rock.
All three climbers from the first group made it back safely, the Clackamas County Sheriff's Office said. The deceased climber was part of the second group. A woman who was coming down the mountain with these same two climbers became unable to move, the sheriff's office said. She was brought down on a sled roped by rescuers, 600 feet at a time.
Live news footage earlier in the day showed some climbers performing CPR and a helicopter airlifting a male climber to safety, but that victim was pronounced dead on arrival at the hospital.
Authorities said that they will identify the deceased after positive identification and family notification:
Clackamas Sheriff?@ClackCoSheriff

PRESS CONFERENCE INFO:

1. Climber who fell 700-1000 ft. was declared deceased upon arrival at Emanuel Medical Ctr.

2. We will identify the climber following positive identification and family notifications. Authorities currently working to identify deceased climber's name/age.
A helicopter from Naval Air Station Whidbey Island is being sent to help in the efforts.
Amy Frazier of KOIN-TV reported that 40 rescuers were part of the rescue. The stranded climbers were on the Hogsback Trail near the summit of the 11,240-foot mountain about 60 miles east of Portland.
"This isn't your backyard hill. This is a mountain that is deadly," Sgt. Brian Jensen with the Clackamas County Sheriff's Office said at a Tuesday afternoon press conference. "It was like a bowling alley," Air Force Maj. Chris Bernard of the 304th Rescue Squadron of Portland, Oregon, said referring to the falling rocks at the mountain. They both mentioned conditions at Mount Hood are treacherous because of the sunny, relatively warm day that was melting snow.
The sheriff's office wrote earlier that rescue crews were "working feverishly" to reach the climbers.
"The weather is supposed to turn south here with rain and snow and winds ... we are trying to do everything we can to get everyone down safely," Jenson said.
An Oregon Army National Guard airlifted one of the more seriously injured climbers earlier in the day off Mount Hood, but that person succumbed to his injuries.
A climber in a stretcher is lifted to a rescue helicopter on Mount Hood in Oregon, Feb. 13, 2018. (KOIN-TV)
Climbers on the Hogsback Trail had signaled for help with emergency blankets while performing on the downed climber for almost two hours, Frazier reports. Reports said they were trapped in treacherous conditions.
The Clackamas Sheriff tweeted out a picture showing some of the 40 volunteers on scene assisting in the rescue: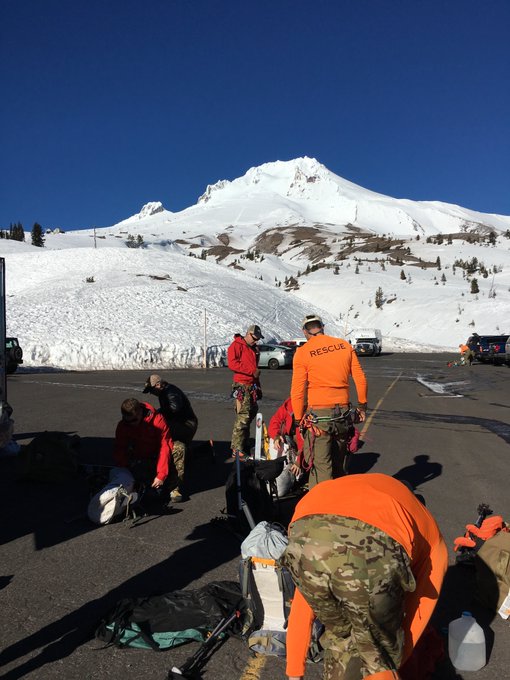 Clackamas Sheriff?@ClackCoSheriff

PHOTO: Rescuers on the ground at @timberlinelodge — approximately 40 volunteers on scene from:

• Portland Mtn. Rescue — 13 climbers on their way up
• @AMRHQ
• @MountainWaveSAR
• 304th Air Force Rescue Squad — 14 personnel
• @CragRatsSAR
• @USCGPacificNW
Mount Hood is a popular climbing site that has seen dozens of accidents and fatalities over the years, The Associated Press reports. Thousands climb it each year, mostly in the spring.
The peak is notorious for loose ice and rocks in warm weather, AP adds. The sun has been out this week, and the temperature was well above freezing Tuesday at Timberline Lodge. The temperature was right around freezing at the spot where the climber fell, Gubele said.
Weather officials expect snow at Mount Hood tonight which undoubtedly will hamper rescue efforts:

Clackamas Sheriff?@ClackCoSheriff

Here's the latest from @NOAA on the expected snow at Mt. Hood tonight, which will likely impact rescue operations should they continue into the night:https://forecast.weather.gov/MapClick.php?lat=45.37345000000005&lon=-121.69563#.WoNuF2aZNt8 …
Wyatt Peck, 26, told the AP he started to go up the mountain Tuesday, but turned around. He said the conditions were so treacherous that he and a friend could not get their pickaxes and crampons into the snow that was melting from a hard freeze overnight.
Peck said others in his climbing group continued, and he's concerned that they are among those stranded.
"I saw like I said a lot of people were struggling traversing," he said. "I think they just got to the summit and were so exhausted they didn't know what to do to get back down -- and that's the hardest part, to get back down."
© 2018 CBS Interactive Inc. All Rights Reserved.