BILLINGS - During a typical Wednesday morning at Washington Elementary School in Billings, students are gathered in a classroom and recite a chant for their team.
"A-L-P-H-A! Alpha all the way!"
These "house meetings," as they're called, have become a weekly tradition after the school implemented the Ron Clark Academy method.
"Kids are engaged in our house meetings, they have pride in their houses, they love being here," said Deedee Larsen, Washington Elementary principal.
The house meetings bring together students from different grade levels, and together they learn valuable lessons.
Based on a private academy in Atlanta, Georgia, the school is built on pillars of culture, student engagement and rigor.
It gives students a sense of belonging, builds self-esteem, and gets them up and moving, all while learning.
"We want kids to be like, 'Yea! I get to go to school! This is so awesome! We love going there,'" said Travis Niemeyer, principal at Beartooth Elementary.
Niemeyer first introduced the Ron Clark Academy to the district three years ago when he was principal at Newman Elementary.
"Teachers started coming in and going, 'This is amazing, the kids are loving this.' I said, 'That's it. That's what we want,'" Niemeyer said.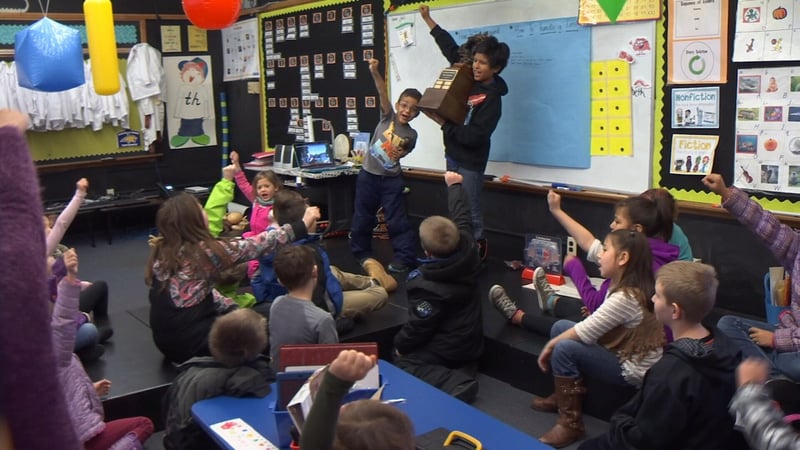 Since then, the academy's model has popped up in seven schools across Billings School District 2.
Each of those seven schools has a goal of sending its entire teaching staff to Atlanta to become Ron Clark certified.
While they won't be able to duplicate every single aspect of the academy, teachers bring back bits and pieces they want to implement and give it their own flare.
"It just goes to show you that it can be done with the right teaching methods, with the right environment and setting everything up that any school across the country can do something like this," Niemeyer said.
For Washington principal Deedee Larson, she introduced the academy to her staff in hopes of seeing better math achievement scores and attendance.
"We can't keep doing, what we're doing the same way, and expect different results. So it's time. Now is the time. It's time to shake it up. Take some risks. Take us out of our comfort zone," Larsen said.
It was a leap worth taking.
"There has been such a change in our school. This is my third year and not that it was bad by any means, but you can just totally feel a mentality shift, and the vibes are so different," said Bryce Baker, a fifth grade teacher at Washington Elementary.
"They love being at school on time. I've had parents tell me, 'My kids get mad at me if we're running late in the morning. They want to be at school,'" said Taylor Voss, a Washington Elementary 3rd grade teacher.
"We've seen our attendance in our house meetings almost double from the first of the year, so it's pretty exciting," Larsen said.
Community sponsors are also seeing a big difference.
"Seeing the kids step up into leadership roles and answering questions and having all of these great answers to what values are, and what values they want here in their school has just been amazing," said Jonna Jones, director of marketing at Wentana, the company that represents local Wendy's restaurants.
"Amazing" seems to be the word everyone uses to describe this outside the box teaching method.
In return, students are making a bigger investment into their education, all while learning life and social skills they can take with them where ever they go.
"We've had some growing pains. We've had staff at different places along this journey. We've made some mistakes, but we're learning and I love what I see right now," Larsen said.
The Ron Clark Academy hasn't made its way to all Billings School District 2 schools. But if a parent is interested, they are encouraged to talk to their child's principal, and the school's PTA.