Benjamin Tucker Staples has been charged in Great Falls with felony intimidation, and misdemeanor criminal mischief (attempted).
Staples captured the attention of many people in Great Falls on Saturday when he began a three-day long stint on the thin ice of the Missouri River.
Staples was taken into custody on Monday at 6:15 p.m. and taken to Benefis Health System to undergo an evaluation.
Cascade County Sheriff Bob Edwards said on Monday that Staples had made statements to him and to firefighters that were concerning: "I was very concerned for his well-being and I felt that he could bring harm to himself and or others because his actions were drawing people on the ice."
Court documents state that on Tuesday, police officers responded to Benefis West at 500 15th Avenue South regarding a disturbance involving Staples.
An officer saw Staples running north on the 1200 block of 4th Street South, wearing hospital-issued scrubs and no shoes.
A security guard from Benefis and a police officer apprehended Staples and placed him in the patrol car.
Witnesses said before escaping, Staples was yelling and cursing, and has threatened to break the neck of anyone who entered the room. He then reportedly kicked open three locked doors and ran away.
Hospital staff said that due to concerns about patient and staff safety, Staples could not be returned to the facility to continue a mental evaluation.
Police officers then took Staples to the Cascade County Detention Center. Court documents state that once they arrived at the jail, Staples became verbally abusive and threatened officers, and then rolled on his back and began kicking the car windows in an attempt to break them.
A probable cause affidavit also says that Staples urinated on the floor of the holding area and smeared his own feces on the walls of his holding cell.
Prosecutors requested that bond for Staples be set at $25,000.
---
(March 5, 2018, 5:13 p.m.) The name of the man who has spent three days on the thin ice of the Missouri River in Great Falls is Benjamin Tucker Staples.
Staples took to the ice on Saturday morning, causing Search & Rescue crews to don their full gear in preparation for a possible rescue. However, Staples refused any assistance.
Ryan Villines created a GoFundMe page to raise money to help Staples. The page states, in part:
Ben says that he is originally from Arkansas, and that he made his way to Great Falls about five months ago. He said he knows a few people in town, and has/had a job, and even perhaps a girlfriend, but that things have gone downhill and that has led to him living homelessly around town. He recently built himself a shelter and a small camp of sorts near where Central Ave crosses the Missouri River, and spent part of his days making drawings in the snow and the ice that he knew many of would enjoy seeing, but he claims that he was recently harassed by people and police to the point that he was forced to move from his encampment, and the only "Home" he knew. He was so disappointed when told that he was going to have to abandon the area that he took what few items he needed strictly to survive, moved out into the middle of the frozen river where nobody would bother him, and burned his prior encampment down. Thus the frozen rivertop is where he sits today.
His former girlfriend, Naomi Brown, said he's originally from Arkansas, which corresponds with a 2001 bankruptcy filing in Arkansas in his name obtained by MTN News.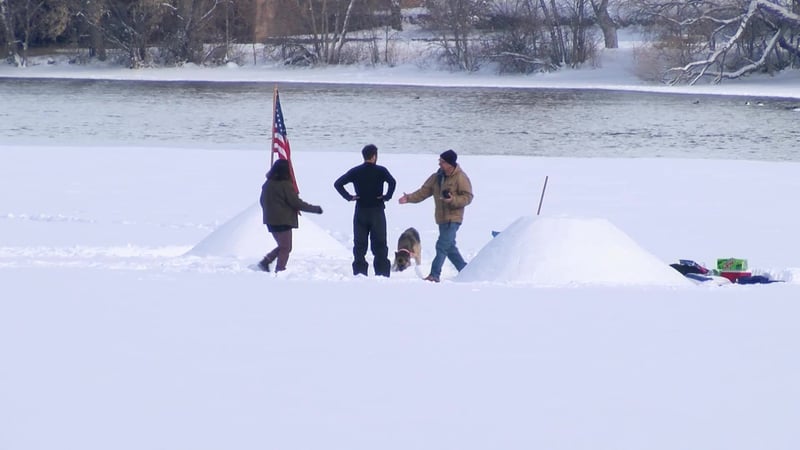 Brown said that Staples has done "stunts" such as this in other locations - most notably in 2011, when he was charged with stalking the president of the Mormon Church in Utah; he served time in jail for it and was placed on probation.
Brown said that Staples believes he's the second coming of Jesus Christ.
Brown added that he does a lot of snow art and is a really good worker. She also said that while he's got a temper, she does want to see him fulfill his dream of opening another homeless shelter where the old Angel Room used to be.
She added that he's not having a mental breakdown, just that he has a funny sense of humor.
Cascade County Sheriff Bob Edwards said with the temperatures warming up, he is starting to worry for Staples' safety - and the safety of others.
"I'm concerned that we're going to have a recovery, and not a rescue, at this point. People, please listen, do not go out on this ice. It is not stable. And then when you go out there like this then we have to come get you, then you put a whole bunch of other people at risk."
Edwards added that they will continue to monitor Staples, and asked that the public leave him alone - and not to venture out onto the ice.