The Great Falls Police Department is warning people to not fall for a scam that apparently is making the rounds in the community.
The GFPD says that a records technician at the department received an email that claimed she had received a traffic citation.
The bogus email said that the woman was being cited for speeding along Park Drive in Great Falls, and she needed to pay her fine online by using a scam website included in the message.
The GFPD says that the City of Great Falls does NOT use traffic cameras and that if you are issued a citation by a GFPD officer, a Sheriff's deputy, or the Montana Highway Patrol, you will know it.
They caution people to not open the email or click any links - simply delete the message.
The GFPD said in a Facebook post:
EMAIL SCAM ALERT! These scammers are bold, they sent this email to one of our Records Technicians at her work email address. Be sure you don't fall for this. If you get a traffic citation in Great Falls, either by one of our officers, a Cascade County Sheriff/Coroner's Office deputy, or a Montana Highway Patrol trooper, you will know it. Pass it on.
---
(February 12, 2015) What are those little things that look like surveillance cameras atop traffic signals in Great Falls?
That's what a few people have asked on the KRTV Facebook page today, with some people observing that they have seen new ones added recently.
We checked with Jennifer Reichelt, the deputy city manager of Great Falls, and she explained that they are actually new traffic sensors, and they are not being used to capture surveillance video of Great Falls drivers.
Reichelt said in an email that the devices can detect whether there are cars at an intersection, and are used to help the city manage traffic flow.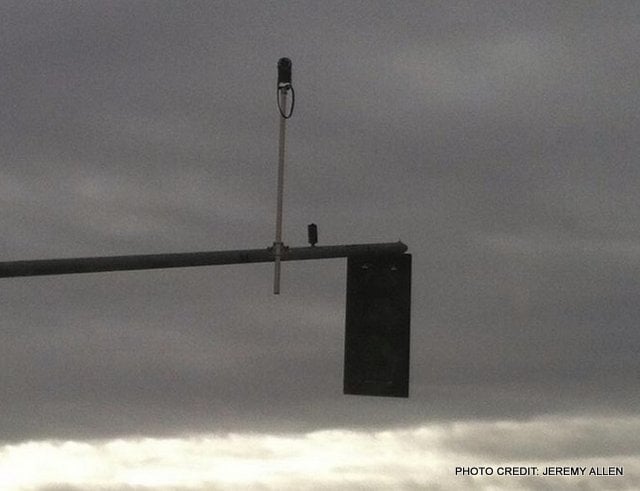 She says that the new devices are replacing the previous technology, which is called an "induction loop," and is simply a coil of wire placed in the pavement embedded in the road's surface that sensed oncoming traffic.
Reichelt provided the following information about the new devices:
- The overhead cameras that are located at traffic signals in Great Falls only detect the presence of vehicles in order to assist with our traffic management system. They are cost-effective replacements for in-ground induction loops that are cut into the pavement. The cameras are not focused on the driver, but instead on vehicles as they move towards the intersection. As a vehicle enters defined areas within the camera's field of view, the camera's processor detects the change. An output is sent to the traffic signal's controller (the computerized "brain" housed in a nearby metallic cabinet controlling the intersection's timing) that says a vehicle is requesting green time for its direction.
- No one is watching or archiving these images. The camera's view is a fixed focus, fixed location image (the camera cannot zoom or be moved once it is in place). The image is analyzed by the camera processor ONLY to determine if vehicles are within defined areas. The resolution of the images by these cameras is NOT good enough to read license plates or distinguish any facial features.
- The cameras cannot record any images, the video is analyzed by the processor in real-time, with no storage whatsoever of the image stream.
---
In November 2013, reporter Beth Saboe at MTN affiliate KBZK in Bozeman reported the following:
The state legislature banned the use of cameras to catch speeders or drivers who run red light cameras back in 2009. So why are they there?

"The only function those cameras have, they're really not as much a camera as they are a detector," said Lee Alt, a traffic engineer with the Montana Department of Transportation. "By that I mean they detect vehicles at the intersection and send a signal to our traffic control which then, in turn, tells the light to change. There's no taping, no digital memory, nothing. Nothing that they take a picture of, is ever memorized. It's just gone."

There's no recording, no taking pictures of your license plate - and nobody even has access to what the cameras are seeing. So in this case, Big Brother is not spying on you.

But to the average driver, it may be hard to tell the difference between this camera being used in Montana and the red light cameras used in California and other states.

"I've been asked by several people before if they're taking pictures of speed or license plates or anything like that and no they're not. We absolutely don't have the capability to do it," Alt said.

He also says the video sensor system is just a newer way to monitor the flow of traffic and make sure drivers aren't stuck sitting at lights.

"What we usually use to detect vehicles are magnetic loops in the pavement but as they started wearing out we started replacing them with video detection because it's just a lot easier to change a camera out in the middle of winter if you need to than to dig a hole in the asphalt and patch it and everything else," Alts explained.

Montana is one of 12 states where red light cameras are illegal.