WEST GLACIER - Glacier National Park is reminding visitors that vehicle reservations are required from May 26 through September 10, 2023, for people entering the park by vehicle or motorcycle between 6 a.m. and 3 p.m. at west side entrances.
Vehicle reservations will not be required at Many Glacier, Two Medicine and St. Mary (at Rising Sun) entrances until July 1, 2023, on the east side of the park.
Visitors with lodging, camping, or commercial activity reservations do not need a vehicle reservation and can use their confirmation email to access the portion of the park for which their activity is booked.

Visitors who do not already possess a vehicle reservation can book 24-hour advance reservations at 8 a.m. on Recreation.gov the day before their visit. Vehicle reservations are only available at Recreation.gov.
Glacier National Park is open 24 hours a day, seven days a week and people may enter the park before 6 a.m. or after 3 p.m. without a vehicle reservation. Park officials note that entry to Going-to-the-Sun Road from the west side is restricted before 6 a.m. due to construction activities requiring nightly closures.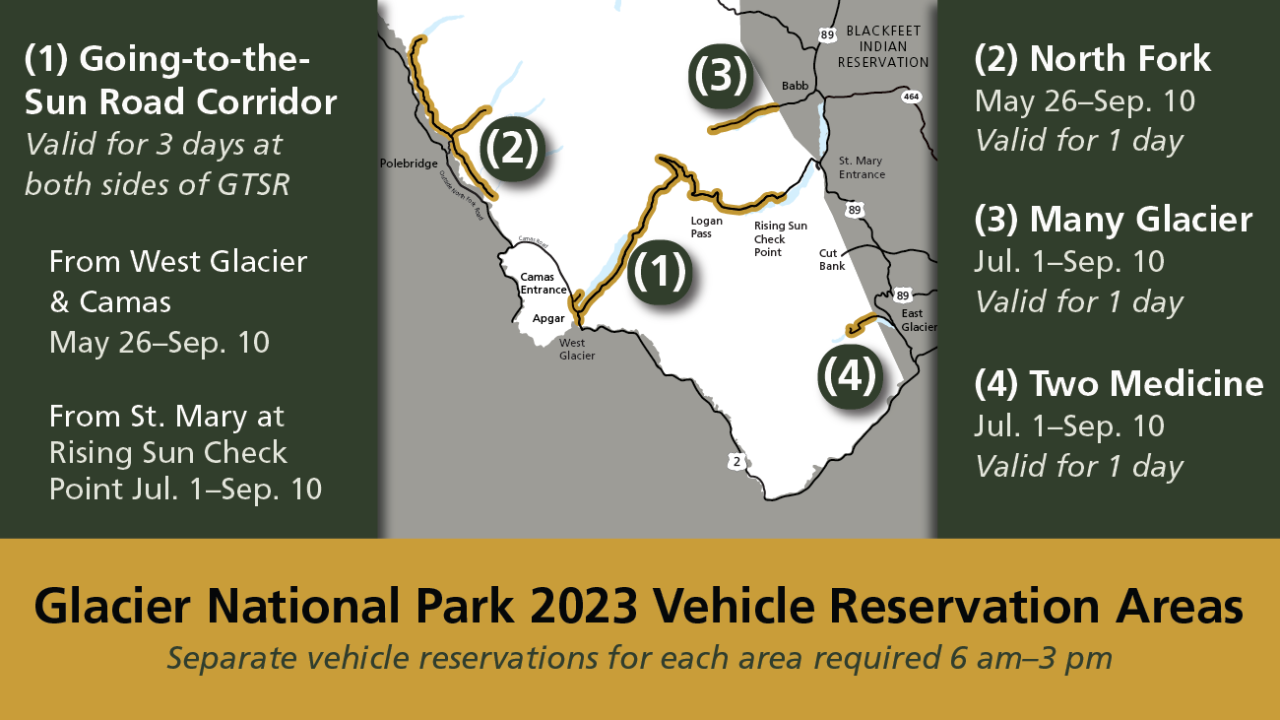 For the east side of the Going-to-the-Sun Road Corridor, vehicle reservations will be checked at the Rising Sun checkpoint (located 6 miles west of the St. Mary Entrance) beginning on July 1, 2023. Park shuttles at St. Mary Visitor Center are located outside of the vehicle reservation area and accessible without a vehicle reservation.
Additional vehicle reservation information and frequently asked questions are available on Glacier National Park's Vehicle Reservation page.