Interior Secretary Ryan Zinke didn't hold back on Twitter when he responded to the top Democrat on the House Natural Resources Committee who had called for his resignation in a USA Today op-ed.
Rep. Raúl M. Grijalva, the Democrat who may lead the House Natural Resources Committee that oversees Zinke's agency come January, wrote that Zinke should resign "immediately." Zinke, who has already been under review by his agency's watchdog, faces a slew of possible investigations when Democrats take back control of Congress.
Zinke wasted no time in responding to Grijalva's op-ed, taking to Twitter Friday afternoon.
"It's hard for him to think straight from the bottom of the bottle," Zinke wrote. "This is coming from a man who used nearly $50,000 in tax dollars as hush money to cover up his drunken and hostile behavior. He should resign and pay back the taxpayer for the hush money and the tens of thousands of dollars he forced my department to spend investigating unfounded allegations."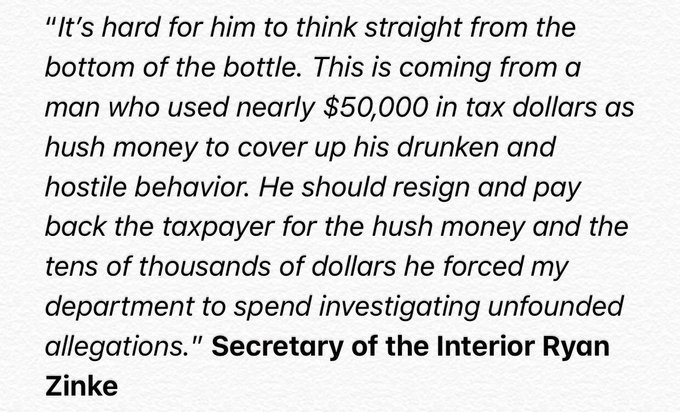 ✔@SecretaryZinke
My thoughts on Rep. Grijalva's opinion piece. #TuneInnForMore
1,925 people are talking about this
Zinke appears to be referring to a 2017 report by The Washington Times that Grijalva quietly arranged a severance package for one of his staffers in 2015 after the staffer threatened a lawsuit claiming he was frequently drunk and cultivated a hostile work environment.
"On the advice of House Employment Counsel, I provided a severance package to a former employee who resigned. The severance did not involve the Office of Compliance and at no time was any allegation of sexual harassment made, and no sexual harassment occurred," the congressman told The Washington Times.
Zinke has faced or is facing more than a dozen federal investigations, over everything for potential Hatch Act violations, to chartered flights, to real estate deals. Earlier this month, Mr. Trump said he didn't intend to fire Zinke, but his future still remains unclear.
-Kathryn Watson reporting for CBS News