FORT BELKNAP – Fort Belknap Fish & Wildlife started a dog roundup on July 25th and so far, RezQ Dogs has brought in 19 dogs to find them new homes.
Since they're near full-capacity, they've found a temporary holding place for dogs before they're sent out to other rescue shelters across Montana, including in Kalispell, Helena, and Missoula.
A poster from Fort Belknap Fish & Wildlife states that any dog not chained or kenneled will be impounded immediately.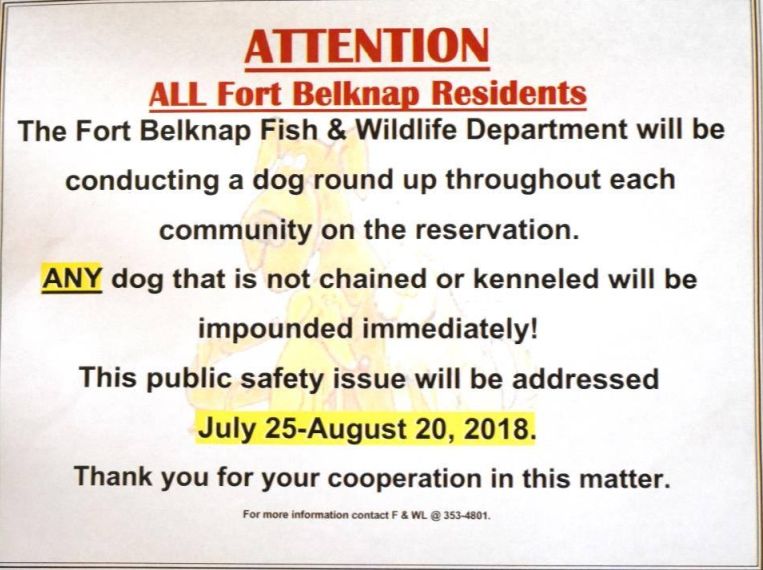 Jim Wilke, the co-founder of RezQ Dogs, said there's no impound place on the reservation.
"Making the animals pay, killing the animals, it's not the answer," said Wilke. "Enforcing the laws, passing better laws is. Whether it's this community or anywhere in the United States you're not going to solve it by creating a cycle of death."
He said a tribal council member said the dogs would be killed and that's why RezQ Dogs stepped in.
"To stand by and do nothing, it's just sad," said Wilke. "These animals. Death for no reason. Most of these animals have done nothing wrong but be born."
He agreed the number of stray dogs on the reservation is an issue, but said the roundup isn't the solution.
"There are people that know that the animals are a problem. When you have a bunch of stray animals, it doesn't matter, they can be the nicest animals in the world, the entire mentality changes when they pack up. You can see it in all animals, even people," said Wilke.
But the ones they've seen aren't like that.
"They're wonderful animals. They'll get good homes. You would think we got a lot of feral animals but everybody that's met them, they're just amazed by how nice they are," said Wilke.
He hopes to give all these dogs a second chance at a good life.
"It's a really good feeling that in doing this you get to go to bed every night, wake up every morning and I kind of shrink away from this word, but to somebody, you're a hero. Hopefully, we get through this and there are no further roundups. All it does is perpetuate," Wilke said.
The dog roundup is scheduled to end Aug. 20th and until then RezQ Dogs will be doing what they can to help. Officials at Fort Belknap Fish & Wildlife could not be reached for comment.