GLACIER NATIONAL PARK – Tuesday was a heartbreaking day as officials confirmed that some historic buildings were destroyed by the Howe Ridge fire in Glacier National Park.
Park spokeswoman Lauren Alley confirmed that approximately seven private summer residences and additional outbuildings were lost at Kelly's Camp at the end of North Lake McDonald Road.
Kelly's camp house, a second cabin, and other structures under National Park Service ownership were also destroyed.
The NPS believes that three outbuildings of the National Park Service-owned Wheeler residence, the Wheeler boathouse and the boathouse at the Lake McDonald Ranger Station were also lost.
---
Mobile viewers click here to view a photo gallery from the Howe Creek fire.
---
Situated at the end of North Lake McDonald the white spot on the shore is the Kelly's Camp TeePee and now one cabin is all that is left standing. The fire tore through overnight Sunday taking at least seven structures out including the main building.
"All of the buildings — ours and everybody else's and our neighbors — are insured. But depending upon the nature of the terrain and well have to decide whether we rebuild," said Tom Payne who owns property along Lake McDonald.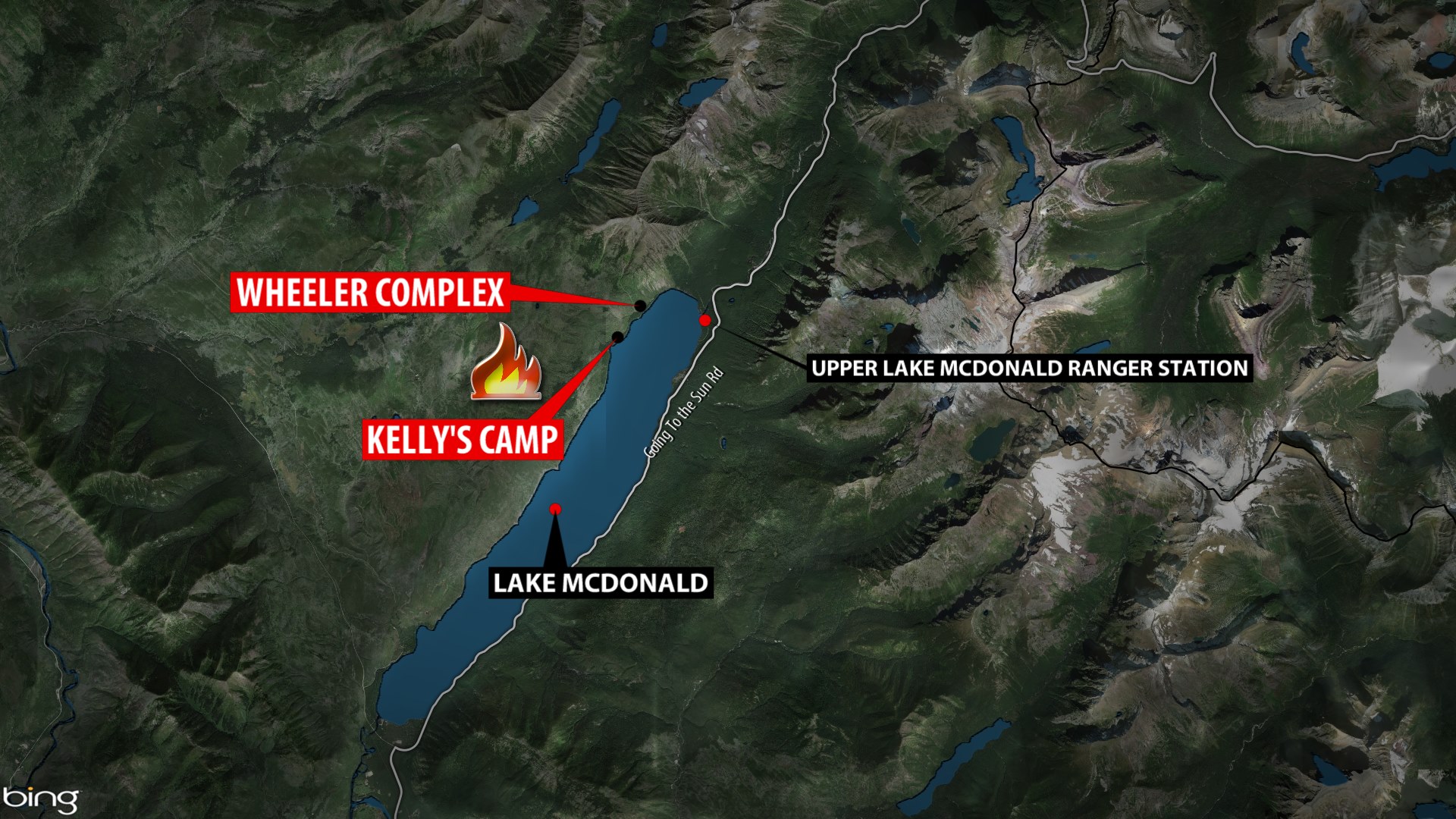 There was some relief for Payne and other property owners as some folks learned that their cabins are still standing, but they are also concerned as the fire continues to burn.
"When the winds turn north, northeast we can get real serious here because it could jump McDonald Creek and come straight back down the east side," property owner Bruce Johnson told MTN News.
"Super scoopers" on loan from Canada grabbed up water from Lake McDonald on Tuesday and worked to suppress spot fires along the north end of the lake.
"We want to spread our hoses all around the house all around the cabin we have two cabins there we can sleep 16 people in beds so it's an extensive piece of property for us and we want to save it," Johnson said.
The lightning-sparked blaze blew up late Sunday forcing evacuations in Glacier National Park and also closing a section of the historic Going-to-the-Sun Road on the west side of the park.
The areas under the evacuation order include North Lake McDonald Road, the Lake McDonald Lodge Complex as well as the Avalanche and Sprague Creek campgrounds. Several nearby hiking trails also remain closed.
Glacier National Park has established a Fire Information Line with updated recorded information at (406) 888-7077.
RELATED: Glacier NP wildfire evacuees wait for word on their properties