Montana's two U.S. senators said Monday they hope Congress can agree on a new, targeted Covid-19 relief bill in the coming weeks – but a specific compromise proposal is not yet on the table.
Republican Sen. Steve Daines, through a spokeswoman, said he's sponsored several bipartisan bills and has voted for GOP proposals to help small businesses, the unemployed and others, but that Democrats blocked the efforts earlier this fall.
Democratic Sen. Jon Tester wrote a letter Monday to the GOP and Democratic Senate leaders, urging them to stop blaming the other side and bring a bill to the Senate floor.
He told MTN News he'd like to see a bill with a price-tag between $1.25 trillion and $1.75 trillion, targeted at needs in health care, schools, the hospitality industry, local governments and the unemployed.
"It could do a lot of good for the economy," he said in an interview. "If we want to let these businesses fall through the cracks, if we want to let local governments default, I think that's really, really bad practice, and it isn't good for our long-term economic health."
Web Extra: Senator Tester on Covid relief
Congress hasn't passed a major Covid-19 relief bill since March. Several efforts to reach a compromise before the election failed, as Democratic leadership insisted on a larger package and some Republicans in the Senate said they wouldn't support that much additional spending.
In recent weeks, the pandemic has significantly worsened, with new cases rising across the country and many states imposing tighter restrictions on businesses.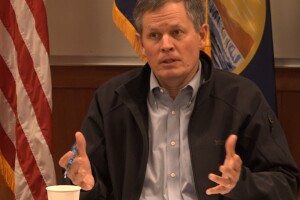 Daines' office noted that he has co-sponsored bills that would forgive loans to small businesses and provide relief for businesses that employ fewer than 50 people, among other things. He'd like to see them passed as stand-alone bills or incorporated into a larger package, it said.
"Sen. Daines is once again urging his colleagues across the aisle to come to the table, reach a compromise and pass targeted relief," it said.
Tester said some Republicans in the Senate won't vote for any additional spending on Covid-19 relief, but that "a number of folks" are willing to work on a bill.
"But none of it is ready for prime time yet," he said. "I will continue to work with anybody I can on either side of the aisle to try to get something done."
Tester said he believes many in the hospitality industry – bars, restaurants, motels – are in dire need of assistance, to avoid going out of business. He also said that schools, colleges, local governments and the unemployed also are going to need some help past the end of the year, because the economy isn't going to magically rebound after Jan. 1.
"This isn't over yet," he said. "I think there is light at the end of the tunnel, but that light is further off than we might think it is. I've been hearing from the experts, six-to-eight months, nothing any quicker than that, before the economy actually gets back to a point where we start utilizing services like we have in the past."