MISSOULA — When renovations on a small city block in downtown Missoula got underway this summer, it didn't take long for construction crews and the business owners to realize they were sitting on top of something amazing -- a part of Missoula history that might have been lost to time.
There are bottles -- even bones -- tea sets, still whole, or in fragments, even a rusted bed frame. And the secrets these long forgotten items have to tell about the early days of Missoula's Red-light district and Chinatown will take years to tell.
Business owners Jennifer and Jed Heggen -- and Bob Marshall -- realized they weren't digging up trash, this was treasure, so they quickly called in University of Montana archaeologists.
"So we went down there with our archaeology screens and these students were working hard in the field school -- ended up moonlighting on this project because it wasn't part of the summer plans -- and the discoveries continued into the fall and even now," said Dr. Kelly Dixon with the UM Department of Anthropology.
There are boxes and boxes of items pulled from the dirt -- even bags of animal bones – which is important because they tell us what people ate way back then.
Researchers already confirmed Biga Pizza sits on what was a Chinese temple back in the late 1800's. And they're curious about the connection between Missoula's Red-light district and the Chinese population -- not uncommon in old Western towns. Why that is, is still a bit of a mystery.
"Many of the women who worked in the Red-light districts, if they needed medical attention and they went to a regular doctor, they'd often get turned away because of their line of work," Kelly explained. "So many of them actually sought out Chinese doctors and were treated with Chinese medicine."

These are personal items with personal stories and as the grad students touch and catalog each piece, they're connecting with a real person. This dig provided an unexpected opportunity to connect with the past.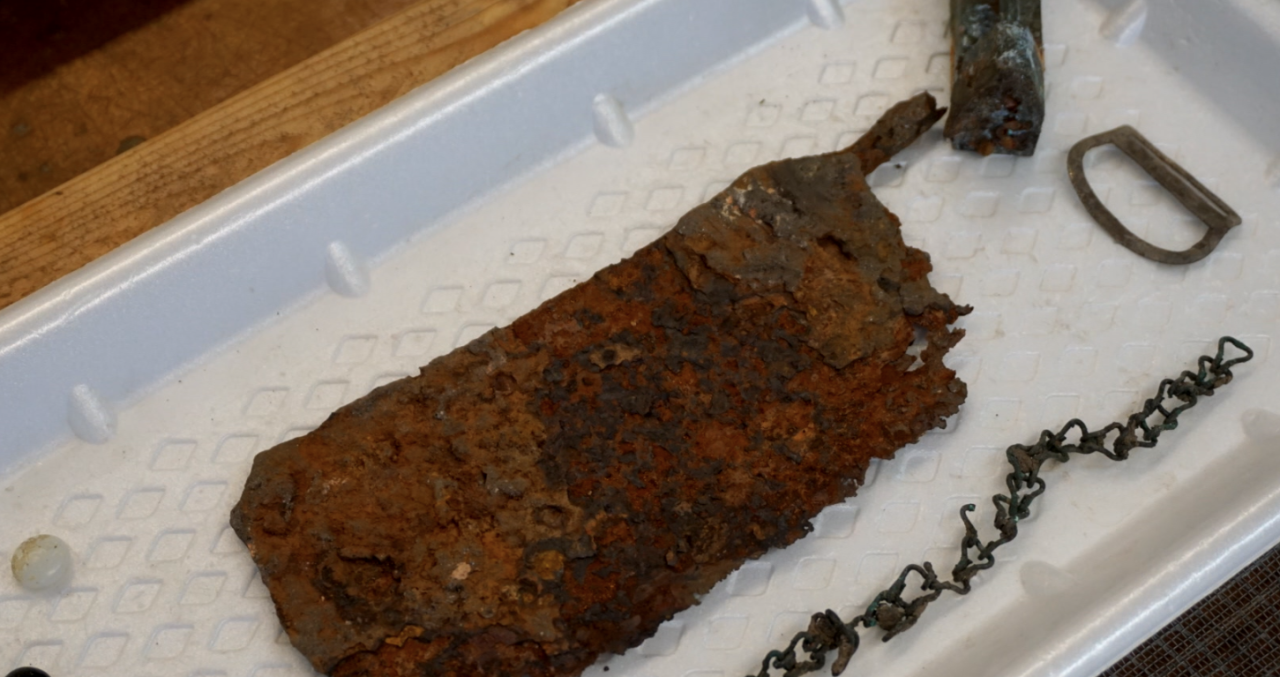 "I have always been fascinated with the Chinese and had always wanted to do an archaeology on the Chinese," UM graduate student Kate Kolwicz said. "But honestly never thought it would happen so this is kind of a dream come true or me and really the whole department.
"These artifacts represent a person, an individual and as we research more about them, we start to see faces behind the words that we use so instead of just 'the Chinese, we have someone who was using this meat cleaver'."
"We can really share the tip of the iceberg here today. There's more to come, week by week, we're learning something new, really, every five minutes we do," Kelly told MTN News.
"We understand that we can't save everything, and we understand that changed happens in urban centers -- even in a small town like Missoula," Kolwicz said. "But that doesn't mean we can't still honor the past and learn things about the past at the same time."
Some of the items will go on display at Cranky Sam Public House in downtown Missoula when it opens this spring while the rest will be cataloged and studied.
Researchers are also having chemical tests done on the residue inside some of the bottle to determine what was once in them.